April 2019
Gladstone Place Partners Appoints Christina Stenson as Partner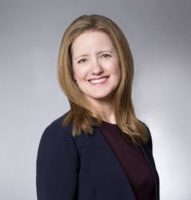 NEW YORK, April 10, 2019 – Gladstone Place Partners, a strategic and financial communications firm, said today that Christina Stenson has joined the firm as a Partner based in San Francisco. Ms. Stenson was previously a partner at Brunswick Group, where she worked for more than 12 years on a range of client matters including M&A, IPOs and crisis communications, and also helped to run the firm's San Francisco office.
"Technology companies in Silicon Valley, the Bay Area and around the world are facing an environment of ever-increasing scrutiny, and communications has never been more important in helping companies navigate this intricate landscape," said Ms. Stenson. "I am thrilled to be joining Steve and the Gladstone team, who have built a reputation as a highly focused strategic communications boutique since launching 18 months ago."
"Christina brings a wealth of knowledge and experience working at the intersection of technology and finance and is a seasoned communications professional who has helped many tech and West Coast companies with their most critical matters," said Steven Lipin, Gladstone Place Partners' Chief Executive Officer.
Mr. Lipin continued: "We think having a West Coast presence is a natural fit for our focus on financial comms, IR and strategic matters, and our clients will benefit from Christina's passion and judgment in how to navigate complex communications matters."
Ms. Stenson has a particular focus on large and emerging technology companies, their financings and governance, and has worked on a wide range of important assignments, including IPOs for companies such as SurveyMonkey and Stitch Fix, as well as M&A transactions like Microsoft's acquisition of Skype and Brocade's sale to Broadcom. In addition, she worked with companies such as Yahoo! on shareholder activism as well as with organizations such as Cisco and Kleiner Perkins. Ms. Stenson started her career advising tech startups on company profile-building and product communications.
Founded in October 2017, Gladstone Place Partners is a strategic and financial communications firm designed to meet the evolving communications and investor relations needs of leading companies. The diverse and experienced team consists of individuals with a broad range of backgrounds, including highly regarded business leaders, communications professionals, finance professionals and former senior journalists.