March 2021
Considerations for Settling With Activist Investors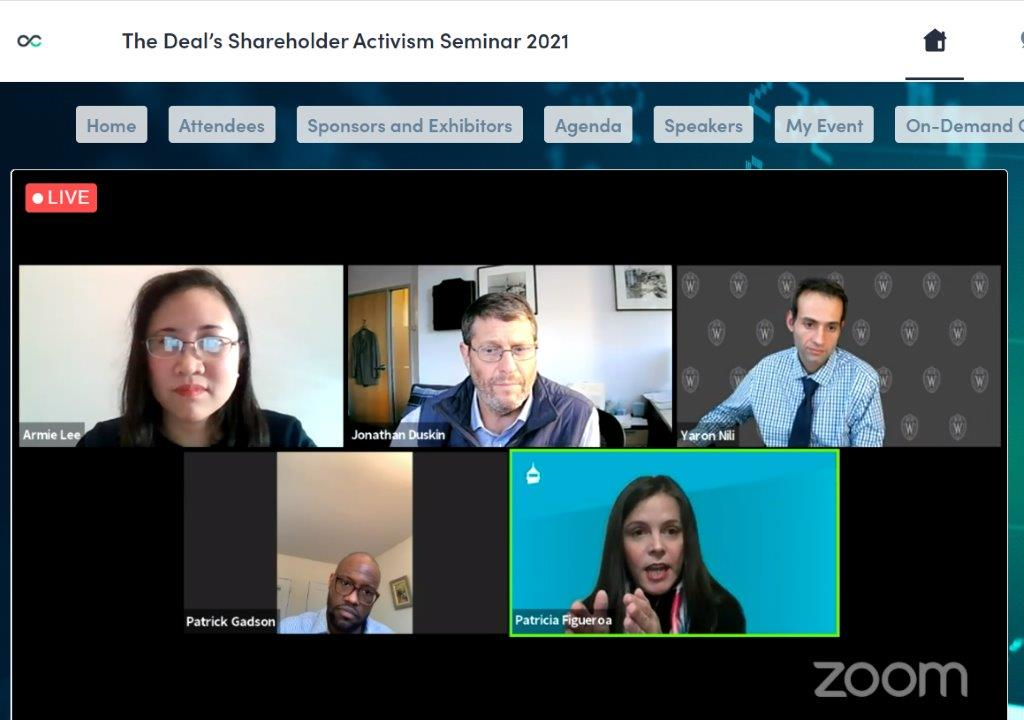 When faced with activist campaigns, corporations must weigh several factors when deciding whether to settle with activist investors, or take it to a vote. Given the enormous cost and distraction that can accompany a noisy proxy fight, public companies often prefer to settle. According to Lazard's 2020 Review of Shareholder Activism, of the 131 board seats that activists won globally in 2020, 82% came through settlements, consistent with past years.
"To Settle or Go the Distance?," a virtual discussion held at The Deal's Shareholder Activism Seminar last week, focused on the considerations that companies take when making the decision to fight to the bitter end or sign for peace. The session was moderated by The Deal's Armie Lee, and the panel featured Jonathan Duskin of Macellum Capital Management, an activist in the consumer retail space; Patrick Gadson, a partner at Vinson & Elkins; Yaron Nili, an assistant professor at the University of Wisconsin-Madison; and Patricia Figueroa, a senior vice president at Gladstone Place Partners.
Companies weighing a settlement must balance what their largest shareholders want, what their own strategic vision is and what their dissident shareholder's plan is for the business. Below are insights from the panelists on these sometimes competing considerations. A replay is available here.
Considerations for Settling
When companies think about settling, it really comes down to what you can give, what you can get in return and whether you and – more importantly – your broader shareholder base can live with it, said Patricia Figueroa. It's a calculation of whether the give and the get create value. Most shareholders would prefer for the company to avoid the distraction, cost and ugliness of a fight if a reasonable settlement can be reached.
Of course, this requires both sides to be committed to finding the best solution for the company, and have some overlap in their views about what creates value, Figueroa noted, adding that there are situations where, unbeknownst to the activist, companies have been quietly and voluntarily working on similar initiatives to those proposed by the activist. In those cases, companies may simply have to accelerate their timeline and share some of the credit. "Sometimes, what you can give is not that onerous," she said.
Aligning with an activist investor also requires the company to believe that there's value in some of the activist's ideas. For Patrick Gadson, if a board believes that an activist agenda is an existential threat to shareholder value, "you'd be very hard pressed to maintain your fiduciary duties and let this investor on the board."
However, some activists can also have a "disciplining effect," according to Yaron Nili, because they can spur companies and shareholders to stress test a company's strategy and reassess its performance in order to determine the validity of the strategy and the strength of the results. In that way, "Activists are a tool to raise important issues," and for Nili, in the long run, companies benefit when they engage with activists.
Board Dynamics
From Jonathan Duskin's perspective, the quickest way for an activist to create shareholder value is to work constructively with a company's board. Replacing even one director can have a significant impact on board dynamics: "Boards are funny things – they're living animals and the group dynamic is so important," he said.
Once an activist actually joins the board, there might be a need for "detoxing," said Gadson. Perhaps a settlement follows a highly contentious period, in which case a company has to "maintain peace," and forgive things that were said.
Considerations for Engaging With Investors in a Proxy Contest
Above all, companies looking to gain support from large institutional investors in a proxy contest must be able to demonstrate both the company's willingness to take on good ideas regardless of the source, as well as its significant efforts to find a reasonable compromise that would benefit all shareholders, said Figueroa. Additionally, it is important that shareholders understand the potential consequences of how they choose to vote in a proxy contest.
The Deal's Shareholder Activism Seminar virtual session, "To Settle or Go the Distance?," appeared online on Feb. 24, 2021.